I have found over the years that what I want in my house is not available retail or if it is, it's way expensive. That's why I decided to make what I want. Over the weekend I made some storage boxes for my bathroom (that is currently in the process of a redo).
I started with three wooden boxes from Hobby Lobby, the thin plywood kind. I picking out some scrapbook paper and ribbon from my stash.
I decided on a paisley pattern for the smallest box. I love the light blue back ground and brown paisleys.
I used a blue and brown striped ribbon for the middle sized box, our new toothbrush holder. I simply stapled the ribbon to the back of the box, snugly wrapped the box and stapled the other end on the back too. It's my favorite.
The third box got a white on silver diamond patterned paper and the lid a silver on white. It's not a shiny silver and I really like the contrast between the lid and box.
So for less than $10.00 I have two storage boxes and a toothbrush holder customized to my bathroom. I wonder how much I would hav spent retail?
Note: I put a plastic solo cup down in the toothbrush holder box to catch any liquid that remains on the toothbrushes. This will make clean up easy - just replace the cup.
FEATURED AT: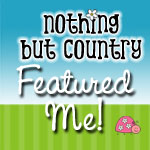 LINKING TO:
Creative Jewish Mom
I Heart Nap Time
Nifty Thrifty Things
Sister of the Wild West
The Tattered Tag
Cherished Treasures
The DIY Showoff
Flamingo Toes
Under the Table and Dreaming
The Girl Creative
Petite Hermine
http://craftomaniac.blogspot.com/2011/08/craftomaniac-monday-link-p-ar-ty-my.html
A Bowl Full of Lemons
R They All Yours
All Things Fee
Sew Chatty
Singing Three Little Birds
Mad in Crafts
Ninth Street Notions
Crafts Keep Me Sane
Life Made Lovely
Making the World Cuter
Boogie Board Cottage
Sumo's Sweet Stuff
Skip To My Lou
It's So Very Cheri
C.R.A.F.T.
Craft - O - maniac
Embellishing Life
Sew Can Do
Polly Want a Crafter
Homemaker on a Dime
THe Girl Creative
Its a Blog Party
Me Making Do
Pinkapotamus
Organize with Sandy
http://todayscreativeblog.net/
A Stroll Thru Life
Funky Polka Dot Giraffe
Sassy Sites
Run with Glitter
Ladybug Blessings
Type A Decorating
Hope Studios
Young Nester
Sugar Bee Crafts
Silly Little Sparrow
Tip Junkie
All Things Related
The Blackberry Vine
I'm Topsy Turvy
A Diamond in the Stuff
Tuesday Timeout
Tuesday Glam Party
Nothing But Country
rafty Confessions
http://savvysouthernstyle.blogspot.com/2011/08/wow-us-wednesdays-26.html
http://www.thethriftyhome.com/
Ginger Snap Crafts
Whatever Wednesday
Sugar & Dots
Laugh Love and Craft
My Girlish Whims
Rook No 17
Creations by Kara
Tearose Home
Domestically Speaking
Organize Your Stuff Now
Someday Crafts
il Luna
Sew Much Ado
Goodbye City Hello Suburbs
Twin Dragonfly Designs
Passionatley Artistic
Polka Dots on Parade
Women who do it all